Egzotique garments are carefully hand-crafted to accentuate the subtlety of the female sexuality, and although we are all about embracing your natural, unadulterated beauty, we do have some 'tips and tricks' up our sleeve when it comes to designing flattering dresses.
We are dedicated to designing pieces that boast freedom of form and natural flow for our ever-growing clientele of confident women, who have embarked on the road of self-acceptance and body confidence. These are the staples of our creativity and the mindset we strive to convey with our garments, individually crafted for our customers' special day.
Although weddings are naturally events of overwhelming joy and happiness, an element of stress leading up to the day (and at times during it) comes as no surprise… Hoping to lift some of this weight, we design our dresses with careful consideration to freedom of movement and comfort, which doesn't only reflect on the outside.
…And that is precisely our motivation – ensuring the comfort and unwavering confidence of our egzotique brides. The first step in the process of visualizing the dress of your dreams, is taking precise measurements of your figure, which will form the basis of all the subsequent decision making in finessing even the smallest details of the garment to accentuate your most beloved physical attributes. After all, we are strong believers that the essence of any of our lovingly crafted pieces is in the detail. To illustrate this, here are some real-life examples…
CASE : We have recently been asked to add a detachable knee-length skirt to a wedding dress that would allow the bride to dance and move around freely during the reception. The skirt fell just under knee level (approx. 3-5cm), to accentuate and elongate the lower leg without emphasizing her knees, which the bride felt were quite prominent.
CASE : In order to form and emphasise the client's shapely hourglass figure, we added a wide (4-5cm) snug-fitting belt that hugged the waist of the otherwise fairly loose-fitting dress (above and below the waist line).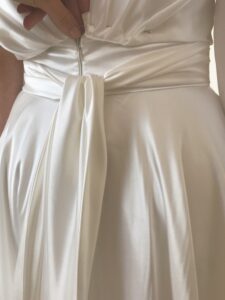 CASE : The bride wanted to opt for wider sleeves, shifting the attention away from her arms and towards her shoulders and collarbone. A clear solution for which we felt was a V neck top secured by thin elegant straps, and loose flowing sleeves below the shoulder level, with conversely close-fitting cuffs that highlighted her graceful wrists.
CASE : Our client hoped to further enhance her feminine hourglass figure by detracting attention from her slender hips. Our solution was to use at least twice as much of the required fabric width for the skirt of the dress, which we ruffled at the base of the waist, to create the illusion of wider hips.
CASE : The client was keen to accentuate her lovely long legs and shit the focus away from the waist line. Our suggestion was to form a lovely deep V neck top, graced with ruffled, loose, free flowing chiffon fabric and slit the skirt in the middle to reveal her beautiful legs.
CASE : Our client was keen to elongate her legs, to which our solution was a high-waisted floor length dress, with a high side slit and an oval neck line.
These were just some of the challenges faced by our beautiful brides with which we've been delighted to assist them. There's a clever solution to every perceived imperfection, the pursuit of which is the motivation of every dedicated designer. Every woman is unique in her own way, and therefore should strive to find the best solution to suit her personal vision.